Refurbishment and transformation of Kuhhirtenturm tower into "Hindemith-Kabinett"
The west entrance to the quarter features a tower known as "Kuhhirtenturm", which in previous years served as the home of composer Paul Hindemith. The tower, which forms part of Sachsenhausen's original fortified walls, was most recently used as an apartment by Haus der Jugend. After the residents moved out, there was a unique opportunity to convert the tower as part of the urban redevelopment scheme, as part of the project of upgrading and enhancing the attractiveness of Sachsenhausen's old quarter. The idea was born to offer the tower to the Hindemith Foundation as an ideal venue for presenting Hindemith's life and works in an authentic setting.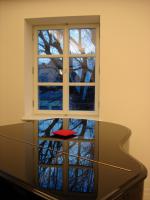 In the course of 2010 the Kuhhirtenturm was extensively restored in keeping with monument preservation regulations. Refurbishment work on the tower was completed in February 2011. Since then, the Hindemith Foundation has used it as an exhibition space that is open to the public.
This gives music lovers and history enthusiasts alike the opportunity to meet in a place that is closely bound up with Paul Hindemith's biography and works as well as the cultural life of 1920s Frankfurt.
Hindemith lived in this tower for several years and it was here that he composed a number of significant works including the opera "Cardillac" and the song cycle "Marienleben" based on poems by Rilke. Many details from this period have been preserved and Hindemith himself bequeathed posterity a sizable number of documents, all of which are on show in the permanent exhibition in the tower, with the Hindemith room, among others, devoted to his life and works. However, the highpoint is quite literally the tower's cupola, which houses what is perhaps the world's smallest chamber music hall. Works by Hindemith – and others – will be performed here in the future.