Social City Nied
Project management:
Ms. Lara Heinz
fone: +49 (0)69 212 33026
fax: +49 (0)69 212 30731
Project description
Reason for planning
Nied is a district surrounded by parkland. Among its great attractions is its location between the Main and Nidda rivers as well as the fact that it is only a few minutes' walk from Frankfurt's greenbelt. There are, however, special challenges facing the district that were the reason why at the end of 2016 it was included in the "Social City – Investments in Urban Quarters" urban development funding program. The program has since been renamed "Social Cohesion". To realize it, the City of Frankfurt applied for a period of ten years for annual funding from the Federal and State of Hessen governments. It must, in addition, provide a portion of the financing from local authority sources.
Nied has a diverse social structure and is very international. The ratio of people who are forced to depend on state transfers and rely on assistance, support, or advisory measures is high on a city-wide comparison. Related to this, the district's social support structures face especial challenges.

The historical center of the district around the main street Alt-Nied is defined by vacant commercial and residential premises. Down-market outlets such as betting shops and electronics stores lower its appeal and thus play a role in a trading-down effect. A trading-down effect is the process of detrimental impacts mutually reinforcing one another.
In some cases the buildings in some settlements are in a condition that no longer reflects present-day standards or is deficient, specifically as regards the design of façades, adaptation to current demographic and climatic norms, and the location of ancillary facilities.
Great distances to social and cultural amenities in surrounding districts and insufficient barrier-free opportunities for pedestrians and cyclists to cross the railroad tracks at and below ground level lead to some housing areas in Nied being isolated.
On the other hand, the attractive location between the Main and Nidda rivers as well as the close proximity to the Frankfurt Green Belt mean the Nied district has great potential. However, the streets have very little greenery and the green structures in the district are insufficiently linked by pedestrian and cycle paths.
The "Social Cohesion" scheme is intended to nurture the positive development of the district with a view to improving the quality of life there in the long term.
Development area
The preliminary development area is 370 hectares in size and has around 20,000 residents. It includes the existing housing in the district as well as the areas of greenery and open spaces in the vicinity of the Main and Nidda rivers.
Planning objectives
The aim of the development scheme is to intensively enhance the quality of life in the district in the long term by improving the lived environment and the associated technical and social infrastructure.

Linking the various parts of the district with one another will be an important issue. In general, the attractiveness of streets, plazas, and public space as a whole will gain in significance and be given more attention.
The integration of children, young people, the elderly, women, the unemployed, the physically challenged and people of different origin is a fundamental objective of the urban development support program. The social, cultural, economic, linguistic and health-related participation in society of these various groups is essential for all residents of Nied to coexist, as the support program's integrating approach envisages both the bringing together of various points of view as well as the impact of structural and social measures vor.
Above and beyond the planning objectives in the district itself, the aim is also to improve its image: the intention is for the city as a whole to see Nied as a destination for recreation and a district with a high quality of life.
Project progress
The urban development program promotes so-called investment measures and these include construction investments as well as the related non-investment measures required such as preparatory studies, concepts, measures to ensure civic participation, and PR work. The program is sub-divided into three phases. In the first phase, the basis is laid by compiling a so-called Integrated Urban Development Concept (IUDC). This is followed by the implementation phase and, at the end, by a so-called stabilization phase. Social urban renewal is only sustainable if in all three phases there is ongoing PR work with the goal of ensuring a strong flow of information and fostering the committed participation of local citizens and institutional players.
Local inhabitants, associations, and institutions are strongly involved in the IUDC. Civic participation campaigns enable Nied citizens to input ideas and suggestions. Regular formats are the district Consultative Council , civic meetings in all sections of the district, and projects driven by the Contingent Fund .
The City of Frankfurt Planning Dept. has commissioned Caritasverband Frankfurt e.V. to provide neighborhood management capacities. The neighborhood management team is the local point of contact with a District Management Office (Alt-Nied 13) Its task is to facilitate ongoing participation of inhabitants and local players in all phases of the urban renewal process. To this end, in its office the district management team hosts discussion hours, moderates civic meetings, and promotes and supports setting up and realizing an array of small local projects.
Construction work has already been completed redesigning the Alt-Nied high street and renewing the lighting along the LRT line to create a better sense of security. Over several participation rounds with inhabitants of Theresa Herger Anlage, the basis was devised for a climate-friendly makeover of the estate. To date, two sunshades have been installed on the playground and a wild bee house has been set up in the greenery. Moreover, a dozen small local projects were supported and realized with financing from the Contingent Fund and with great civic commitment.
In 2022, construction of a Calisthenics facility started marking the kick-off of the subsequent redesign of the entire Nied-Süd park. In addition, services for cyclists will be gradually improved in the guise of secure bike boxes. Key insights will also be provided in this regard by the cycle traffic concept for West Frankfurt that is currently on the drawing board.
At present, preparatory measures are underway for other projects, too, starting with coordination of the specialist departments involved in realizing the proposals and aligning efforts to the legally required tendering process for planning and construction services.

Anyone wishing to stay abreast of developments in Nied and on the projects can have themselves included on the mailing list [Link zur Unterüberschrift] for the district managements information bulletin .
PDF files relating to the project
More information
ISEK
In dem Integrierten Städtebaulichen Entwicklungskonzept (ISEK Nied) werden zu Beginn des Förderprogramms die Stärken und Schwächen des Stadtteils analysiert und Entwicklungsziele für die Zukunft vereinbart. In einem Maßnahmenkatalog werden Einzelprojekte dargestellt, durch deren Umsetzung diese Entwicklungsziele erreicht werden sollen.
Somit bildet das ISEK die Grundlage für den gesamten Umsetzungsprozess. Die Erstellung und auch die Umsetzung des ISEK erfolgte in Zusammenarbeit mit der vom Stadtplanungsamt beauftragten Projektsteuerung ProjektStadt und mit intensiver Beteiligung der Bewohnerinnen und Bewohner sowie der Vereine und Institutionen in Nied. Rund 780 Menschen aus Nied haben mit ihren rund 2.700 Ideen und Hinweisen wesentlich an der Erarbeitung mitgewirkt.
Council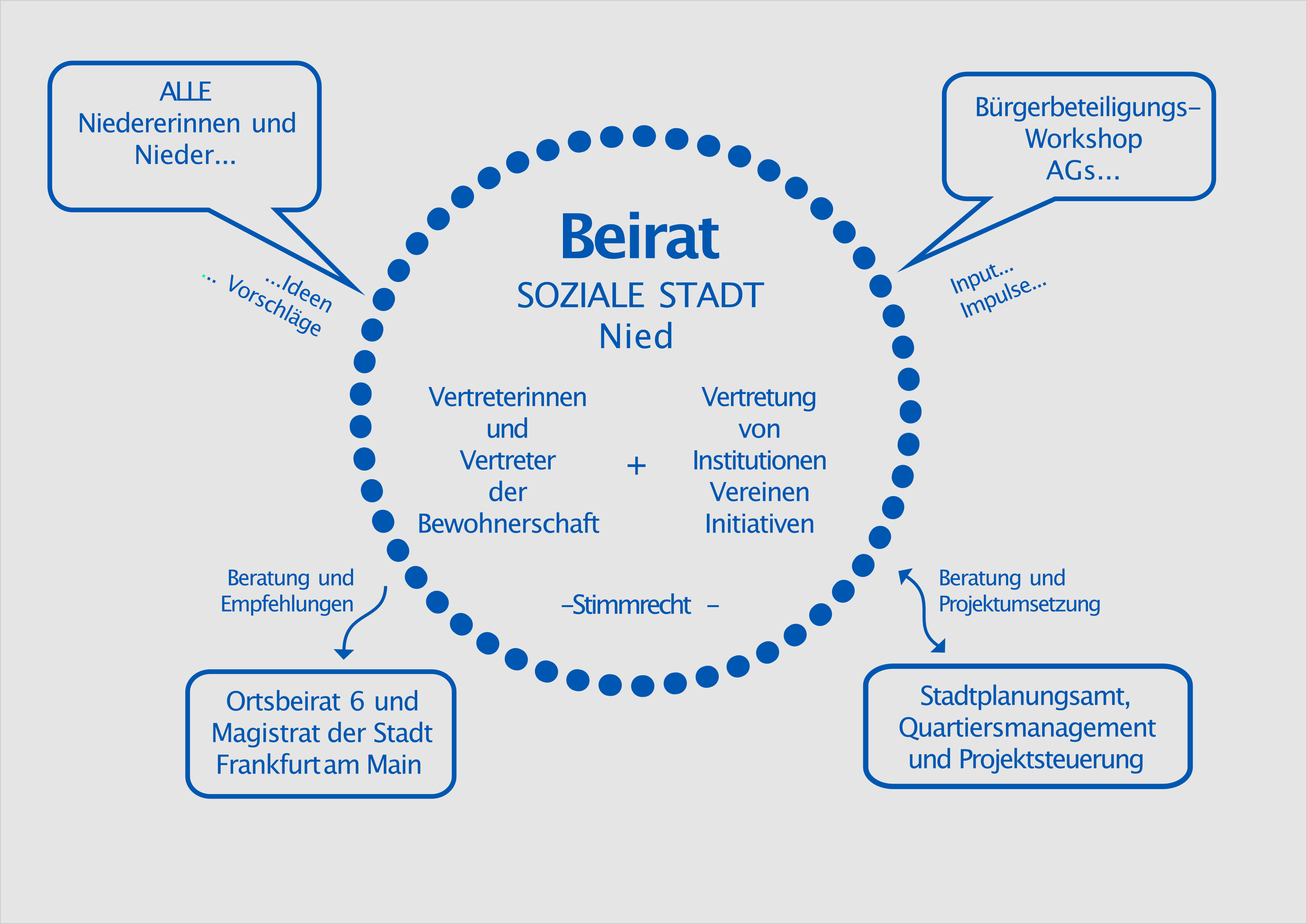 The district Consultative Council is a committee that enables residents and representatives of institutions to participate in the "Social Cohesion" scheme. The districts' representatives exchange ideas and information here. The members of the Consultative Council represent the interests of the area and offer advice with regard to project proposals and necessary developments in the district. The Consultative Council convenes regularly and holds public sessions so as to include the suggestions of Nied residents in the Social Cohesion Nied project.
The Nied Consultative Council officially began its work in August 2019. At its first meeting the Consultative Council elected Helmut Grohmann as its first chairperson and Emre Telyakar as the second chairperson. The Chairpersons chair the meetings and, with the support of district manager Marja Glage from Caritasverband Frankfurt e.V., ensure that the concerns of residents of Nied and the issues affecting them are taken into consideration. In all, 13 residents from all five districts of Nied and 12 representatives of institutions are members of the Consultative Council. The 25 members represent the area's interests, discuss urban developments and make decisions with regard to neighborhood projects that can be financed through a contingent fund.
The meetings take place every six to eight weeks on Wednesdays from 6-8 p.m..
Resident's meetings
On the Consultative Council, the representatives of local inhabitants with the support of the district management team host regular meetings for inhabitants, in all five sections of the district. These open, informal meets take place if required approx. four times a year. Together with the Consultative Council, the five groups of inhabitants promote interaction within their respective section of the district and thus networking between the Consultative Council and the people who live in the respective sections of Nied.
Neighborhood interests and concerns are reported by the representatives of the inhabitants at the respective district Consultative Council meetings. The inhabitants' meetings spawn project groups that then realize projects financed by the Contingent Fund..
Bewohnertreffen
Die Vertreterinnen und Vertreter der Bewohnerinnen und Bewohner im Beirat veranstalten mit Unterstützung des Quartiersmanagements regelmäßige Bewohnertreffen in allen fünf Siedlungsteilen: Die offenen, formlosen Treffen finden bedarfsorientiert etwa vier Mal im Jahr statt. In Verbindung mit dem Beirat fördern die fünf Bewohnergruppen den Austausch innerhalb ihres Siedlungsteils und die Vernetzung zwischen Beirat und den Menschen in den einzelnen Siedlungsbereichen.
Die Anliegen aus der Nachbarschaft werden durch die Bewohnervertreterinnen und Bewohnervertreter in den Stadtteilbeiratssitzungen berichtet. Aus den Bewohnertreffen entstehen auch Projektgruppen, in denen Verfügungsfondsprojekte umgesetzt werden.
Nied district office (Stadtteilbüro)
In January 2020 the premises of the former Volksbank branch at Alt-Nied 13 were rented for the Social Cohesion Nied scheme in order to create a single point of contact for project-related issues and a staff workstation. The office doubles up as a meeting place and as the office of the district management and has open consultation hours. In her capacity as the intermediary between the City Council, local institutions and local residents, district manager Marja Glage is thus the focal point on site for people wanting to find out about upcoming developments in the district or seeking advice on offers related to the Social Cohesion scheme.
Contact details and opening hours of the district management:

Marja Glage, Stadtteilbüro Nied, Alt-Nied 13, 65934 Frankfurt/Main, Tel.: 069 2982 6540 or 0176 12982 202,
Email: marja.glage@caritas-frankfurt.de

You can also find further information under:
https://www.caritas-frankfurt.de/ich-suche-hilfe/quartiersmanagement/qm-nied

| | | |
| --- | --- | --- |
| Open office hours: | Tuesdays | 10:00 a.m. - 12:00 p.m. |
| | Thursdays | 4:00 p.m. - 6:00 p.m. |
and by appointment.
The District Office functions as a regular venue for discussions, residents' meetings or Consultative Council meetings and working groups on various topics. The existence of an easily accessible place such as the District Office enables new services to evolve that foster a neighborly exchange, shared leisure activities, and cultural diversity without excluding those people who could not otherwise afford such services or the related rent. After all, it is also possible for people to organize and manage their own event in the district office say to host an exhibition, a reading circle or a repair café. The District Office lends itself to various uses making it equally suitable as a kind of thinktank for projects financed from the Contingent Fund or a workshop for activities with kids. The room is intended for communal use and is open to all local residents.
Im Stadtteilbüro finden regelmäßig Besprechungen, Bewohnertreffen, Beiratssitzungen und Arbeitsgruppen zu unterschiedlichen Themen statt. Durch einen leicht zugänglichen Ort wie das Stadtteilbüro können neue Veranstaltungsangebote entstehen, die den nachbarschaftlichen Austausch, die gemeinschaftliche Freizeitgestaltung sowie die soziale und kulturelle Teilhabe fördern, ohne die Menschen auszugrenzen, die sich solche Angebote sonst nicht leisten können. Der gemeinsam nutzbare Raum steht allen Niederinnen und Niedern offen.
Infobrief
Ein digitaler Infobrief hält Interessierte stets auf dem aktuellen Stand. Dieser wird ungefähr zweimonatlich und anlassbezogen per E-Mail versandt sowie in Infoschaukästen und im Stadtteilbüro-Schaufenster ausgelegt. An der Bearbeitung ist ein Redaktionsteam aus dem Beirat, das Stadtplanungsamt, die Projektsteuerung und das Quartiersmanagement eingebunden.

Ziele sind die Steigerung der Bekanntheit des Programms und aktueller Ereignisse, schnelle Information über den Arbeitsstand sowie Rückblick auf erfolgreiche Aktionen und Aktivierung durch Hinweis auf Beteiligungsmöglichkeiten. Zielgruppen sind insbesondere Bewohnerinnen und Bewohner in Nied und im Frankfurter Westen.

Wer regelmäßig den Infobrief als E-Mail erhalten möchte, kann nach einer formlosen E-Mail an das Quartiersmanagement in den Verteilerkreis aufgenommen werden.
Contingent fund
Contingent fund of the City of Frankfurt/Main
With a view to strengthening its commitment to the common good, the City of Frankfurt is making available to those districts undergoing urban renewal a budget (contingent fund) for the execution of minor local projects and measures. In an unbureaucratic way the fund will enable independent civic activity in the non-investment field.
Do you have an idea that could be used to play an active role in your neighborhood? The City of Frankfurt will be pleased to reimburse you for your efforts.
Initial ideas for projects can be discussed informally with the neighborhood management team. The district manager Marja Glage also offers assistance with submitting an application and the implementation process